A Politician's Role in the Twitterverse: Megaphone vs. Telephone
It all began with a tweet from a college friend – and so began our Twitter discussion on the role politicians should play within the greater Twitterverse, and how they may view their own roles as part of the greater community.
Politicians are just like other tweeters, are they not? They use Twitter to share and disseminate information, while also striving to stay current and absorb additional news. Twitter is also a new way to hear from district and national constituents on specific issues that are being discussed. The real issue is that every politician approaches their use of Twitter differently, some don't even utilize it at all.
Megaphone vs. Telephone
Obviously, today's politicians see the Twitterverse as an  asset, but there is still a disconnect in how it should be  used. More than 70 members of Congress, including  almost twenty sitting U.S. Senators, tweet. Candidates  for public office, whether gunning for a position on the  school board, state representative, or U.S. Senator use  Twitter in a variety of ways – some more effective than  others.
Most politicians these days (and businesses) use Twitter as a mouthpiece, instead of a tool for conversation. Too often, social media tools are seen as megaphones to blast a message, not telephones to foster engagement. The secret to using Twitter as a telephone is the same as any other basic community relationship: you have to listen as much as you speak.  Engaging the community is the best way to communicate and have influence on Twitter.
Community engagement on Twitter can be anything from responding to @-messages or asking your Twitter followers for their opinions on a particular bill that is being debated in committee, to having a Q&A session with the Twitter community. By engaging your audience and giving them an actionable role, your followers feel they have a voice and stake in your political success. Telephone conversations aren't always perfect, sometimes they can be a bit one-sided,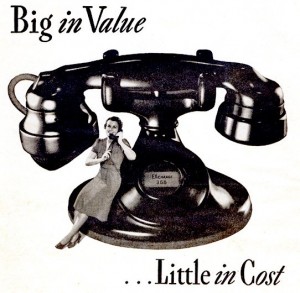 but there is still a chance for the other party to participate. Where as a "megaphone method" of tweeting doesn't really scratch the surface or have as much of an effect. Constant "megaphone" use can lead to your audience tuning out your tweets – it becomes white noise or what I liked to refer to as "the teacher" from Peanuts, "WahWah."
Now lets take a look at a few politicians and political players using the concepts we've addressed in this series of blog posts: follower/friend ratio, influence, megaphone vs. telephone and engagement.
Robert Gibbs, the White House Press Secretary (@pressSec). On Christmas Eve Day, Gibbs dedicated 30 minutes to answer the public's questions via the White House Twitter account. In one tweet Gibb's said,
"I like doing these a lot and hope we do them every day we brief – do you guys like these better than the video – let us know @rdweseman"
Not only is the White House listening and responding to the public, but they are asking for feedback as well and continuing that successful community engagement. Over 100k users follow @presssec, yet @presssec follows just 220 other users.
Engagement: High
Influence: High
Style: Telephone
Follower / Friend Ratio: 454 Extremely High
Governor Deval Patrick (D-MA @massgovernor). A quick scan reveals an average of less than one tweet per day and a definitive lack of engagement. Governor Patrick is followed by 14k twitter users, and @massgovernor in turn follows nearly 12k twitter users, which does create a balance – but is it utilized properly?
Engagement: Low
Influence: Low
Style: Megaphone
Follower / Friend Ratio: 1.23 Even
Senator Bernie Sanders', (I-VT @senatorsanders) fame recently sky-rocked during his 8+ hour filibuster that earned him the hashtag "#filibernie." This is a fantastic example of the repercussive effect on Twitter created by activity on capital hill. In approximately 48 hours, @senatorsanders following went from ~6k to nearly 26k, despite virtually no change in the number of people that @senatorsanders was following. Senator Sanders now enjoys a powerful position on Twitter, having generated several Tweets that were retweeted in excess of 100 times.
The Senator could have increased his level of engagement, by utilizing his 8+ hour filibuster to read tweets and opinions in opposition to millionaire tax cuts off his Blackberry or iPad while at the podium. Can you imagine? "" "#filibernieLIVE, use this hashtag to hear your tweet read during a Congressional Filibuster." Now, this is actually not possible due to current Congressional decorum regulations, but supposedly there are plans in the works to begin allowing mobile devices on the House floor (still uncertainty about the Senate).
Engagement: Low
Influence: High
Style: Megaphone
Follower / Friend Ratio: 90.9 – Extremely High
Governor Jack Markell (D-DE @governormarkell) is another good example. The following tweet exemplifies the Governor's approach – Note the "*F" at the end of tweet, which signals the staff who authored it:
"Please keep your ideas coming! What could we offer @GovGregoire as a wager for the #udel #bluehens game? #NetDE*F"
The "*F" helps separate the content from the politician, which serves to insulate Governor Markell from the potential liability with an element of "plausible deniability." It also creates a level of transparency, in that followers are able to tell when the Governor is actually posting.
Engagement: High
Influence: Medium
Style: Telephone
Follower / Friend Ratio: 2.27 – Even
Claire McCaskill, (D-MO @clairemc) exemplifies excellent usage of the Twitter platform, mixing personal with professional. Consider this tweet, where the Senator shares a photo of her holding her grandsons:
"One major reason I am looking forward to Christmas. My grandsons.http://yfrog.com/h8yussj"
Or this tweet, where the Senator provides a statement in protest of the Dream Act outcome in the Senate.
"An emotional difficult vote. Why I voted for this version of the Dream Act. http://bit.ly/hCZNN2"
She consistently responds to her (close to) 45k followers, yet actually does not follow even one Twitter account.
Engagement: High
Influence: Medium
Style: Telephone
Follower / Friend Ratio: Extremely High

Mayor Cory Booker (D – Newark, NJ – @CoryBooker) is a Twitter rock star! He utilizes Twitter the way he governs: with passion, enthusiasm and a hands on approach. He tweets upwards of 50 times a day, most of which are substantive and/or a response to a fellow tweeter/constituent.  He epitomizes the way politicians should be using Twitter as a tool for outreach and to spur discussion.
Most recently, with the first snowstorm of the season hitting the east coast, Mayor Booker was responding via Twitter to constituent concerns regarding power and plowing "" and in some cases showing up to shovel people out himself:
"Sending team immediately back there 2 ensure hospital is clear RT @Babihead: still has yet to clean my street & I live across from hospital!"
" I will get someone to your mom's street, tell her to stay put RT @sexylp40 my mom stuck on 9th ave and 12th that whole block wasn't plowed"
He is a model for all elected officials on how to utilize social media to govern and apply constituent services. With over 1 million followers he is legitimately a Twitter celebrity, but he only follows a little over 45k causing his balance to be tilted and a gap to exist. That being said, he does take the time to respond to several tweets a day, most from those he does not follow. Engagement: Very High
Influence: High
Style: Telephone
Follower/Friend Ratio: 21.7 "" Very High
In the above examples, we've seen that a politician's follower / friend ratio is not necessarily correlated with their level of engagement, or their influence on Twitter. While some embrace a mix of personal and professional content, others hold Q&A sessions, and still others engage in the retweeting and "@ mentioning" that becomes the classic, authentic use of the platform.
In Senator Sanders' case, we've also seen that influence can exist without the kind of engagement that is classically associated with Twitter. At the same time, the Senator's ability to generate this level of influence without using Twitter in it's intended capacity, strongly suggests an opportunity to dramatically increase that influence.
The following quote from an article at Mediabistro in November is a fitting way to close.
"Ideally, politicians should use Twitter to both engage their audience and to broadcast important political milestones."
This was the last installment in a 3 Part Series on the Role of Politicians in the Twitterverse. Please take the time to read the first two segments if you have not been able to yet: "Follower to Friend Ration" and "Popularity vs. Influence."
This series of posts on "A Politician's Role in the Twitterverse" was a joint collaboration between Sandi Fox, Smart As A Fox Consulting (@smartasafox) and Sean Hurley, Hear Forward(@seanphurley).