Mobile (SMS): Peer-to-Peer vs. Broadcast
More and more nonprofit organizations and campaigns are realizing they need to include mobile (SMS) text messaging in their digital and campaign strategies. There are two types of mass texting that can be utilized by your organization. Broadcast SMS has been around for 10+ years but didn't begin to be utilized by major organizations and campaigns until after 2012.
Whereas Peer-to-Peer SMS made its first appearance during the 2016 election and is that "bright new shiny object" that organizations all feel they should be using because their major donors or board members keep asking.
Both of these mobile (SMS) methods can increase your ability to engage and have an impact, but they need to be used strategically and have specific use cases. When used correctly, they can complement each other. However, often I see organizations using peer-to-peer inefficiently, leading them to use valuable staff time and pay more money then they would if they used a broadcast tool for the same tasks.
You need to be always aware of your resources:
[siteorigin_widget class="SiteOrigin_Widget_Image_Widget"][/siteorigin_widget]
[siteorigin_widget class="SiteOrigin_Widget_Image_Widget"][/siteorigin_widget]
[siteorigin_widget class="SiteOrigin_Widget_Image_Widget"][/siteorigin_widget]
Here is a basic breakdown on the differences between them.
The Breakdown
| | Peer-to-Peer | Broadcast |
| --- | --- | --- |
| PLATFORM: | 1:1 – One 10 digit # messaging another | Application to Person – platform using a 5 digit short code messaging many numbers |
| HOW: | Person must manually send each individual message. | A person can use the application/platform to send one message to multiple people. |
| OPT-IN: | NOT Mandatory | Mandatory |
| CAPACITY: | Need multiple volunteers/staff to implement, and at least one staffer to manage the platform/lists. | Only need one person to manage the platform and mobile program. |
| COST: | Pay per user/mobile number and get unlimited SMS to that user (MMS extra). | Pay for monthly or annual platform usage and a # of SMS/MMS messages/mo. |
| FUNCTIONALITY: | Basic text SMS with emojis, custom fields, etc. | SMS & MMS (graphic & gifs), logic-based messages, patch-through calling, custom fields, etc. |
| EXAMPLE: | Hustle, Relay, etc. | Mobile Commons, Revere Suite, HubDial, Twilio, etc. |
So once again, it's important to think about your specific need and to determine the appropriate mobile tool/platform to use based on the circumstances. Now, let's break down each of these differences in greater detail:
Platform
An application-to-person broadcast mobile platform can be similar to a fully functioning CRM you might use for email (Mobile Commons, Revere Suite, etc.). Only instead of sending an email message, you are sending a 160 character text or a logic-based text thread to your list, which allows you to engage and have an automated back & forth conversation with your supporters. That being said, there are some more basic barebones broadcast platforms that are just built for you to ONLY send a broadcast SMS to a large list.
Broadcast messages MUST be sent from a 6 digit short code that has been approved by all the mobile carriers for mass texting purposes. If you come across a broadcast mobile SMS provider that uses a regular phone # or long code to send text messages then your SMS messages are more likely to be blocked by carriers who mark mass texts as spam because it's an FCC violation.
A Peer-to-peer mobile platform is both on a web platform and a mobile app. You set-up the messages and the lists via the platform, and then your staff or volunteers send each message via the mobile app to all your recipients.
Peer-to-Peer messages use a 10 digit long code (i.e., a regular phone #) because they have been able to operate in what I like to call a "gray area" within the FCC regulations which say each message must be sent individually. While they do message an established list of recipients, the messages are not sent all at once, and a person is technically hitting send on each message.
Capacity (i.e. How and Who)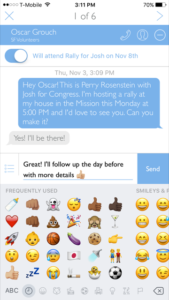 As explained under the platform section, one of the primary differences between how Broadcast and Peer-to-Peer mass texting works is how the text messages are sent. For Broadcast messages, a single person can schedule or send an SMS message with the hit of a button to hundreds, thousands or even millions of people. For Peer-to-peer if you need to send one thousand messages an individual or several individuals must press send for every message that goes out. This is where assessing your resources comes into play:
Peer-to-Peer
People: You need more people (staff or volunteers) to send out the messages.
Time: You can't send out as many messages as quickly, so peer-to-peer isn't as great for rapid response.
Money: If you need more people to send all your messages (especially if you have a time constraint), then you may need to hire staff and that costs money.
Broadcast
People: You only need one person (and ideally a back-up) trained on how to manage your broadcast mobile program.
Time: You can send messages immediately or schedule them for the exact moment you need them to go out.
Money: You only need the salary of one staff person, who could also have other responsibilities outside of mobile.
Opt-In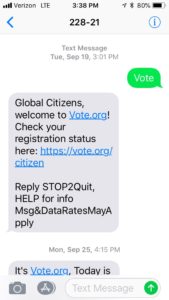 One of the most important differences between Broadcast and Peer-to-Peer is the requirement of an opt-in from your message recipients.
Broadcast operates like an email program, in that you need to acquire permission (ie. an opt-in) from your audience in order to send them messages. This can come in the form of opt-in language on a website form, opt-in language on a print or digital keyword ad (ex. Text JOIN to 69866), or verbal acknowledgment of opt-in at an event when someone asks people to text a keyword to join a mobile list. That opt-in is followed by a text message verifying that same opt-in language:
Welcome to the [ORG NAME] mobile network!
We'll keep you updated on important issues.
Standard data and messaging rates apply
Reply STOP to Quit at any time.
Peer-to-peer does not need an opt-in and is not subject to the same FCC opt-in requirements because it is not categorized as mass texting since an individual is pressing send each time. This is why Peer-to-Peer is best used for voter outreach and acquisition. You can purchase a list and send messages to your target recipients.
So when considering how you plan on using each, consider who is your target audience. Is it your supporters and donors? Then you probably want to use Broadcast mobile and utilize your existing channels of communication to get them to opt-in to your mobile list. Or is it a specific group of people or voters you don't have an existing relationship with? If so, you'll probably want to use Peer-to-peer to reach them, provide or get the information you want, and maybe prompt them to opt-in to your Broadcast mobile list.
Cost
Another core difference is how and how much you are billed by Broadcast and Peer-to-Peer vendors.
The vast majority of Broadcast vendors bill by usage and have month-by-month or annual contracts. They charge you a rate based on sending a certain number of SMS messages during a particular period of time (typically a month). The monthly rate is usually a breakdown of the number of messages, overall platform costs, carrier fees and shortcode fees. The cost per text message usually is less than 2 cents and goes down if you sign an annual contract for more messages per month.
Plans vary with each vendor, but you can get an annual contract for approximately, $2,000/month* to send 100,000 text messages. If you have a list of 20,000 mobile numbers and send 3-5 broadcast messages a month to that list you'll send between 80,000 – 100,000 messages. Another thing to note is that many of the larger vendors require an annual contract.
For Peer-to-peer vendors like Hustle or Relay you pay per contact #, not per message. They can charge you either approximately $0.30/month* for each contact or as low as $0.15 per contact, depending on list size, the volume of messages and length of the contract. So let's say you have 20,000 contacts and are paying month-by-month because you only are running a 3-month campaign, then you'd be paying approximately $6,000 per month. If you sign an annual contract that might drop down to $3,000 per month, but you are also paying for the list unless you have mobile numbers already.
Peer-to-Peer
Broadcast
Pay Structure:
Pay-per-contact*
($0.15 – $0.30 cents)
Pay per SMS message ($0.01- $0.02 cents)
Monthly Cost (approx. 100,000 messages)
$6,000 (or $3,000 with an annual contract)
$2,000
Time Constraints
Can do month-by-month
Most require a minimum annual contract
Types of Messages
Basic SMS only with emojis, and personalization (i.e., Hi First Name)
All: SMS
Most: MMS, personalization (i.e., Hi First Name), surveys, yes/no responses, logic-based threads (if/then)
*Some Peer-to-peer vendors now have a per message option, but it is around 10 cents per message, which is incredibly expensive (approx. $10,000/mo for 100k messages).
So when you look at your resources, if you have a wealth of staff or volunteers (people), a decent budget (money), but only 2 months (time) to do the outreach you need then Peer-to-Peer is the right choice for you.
Functionality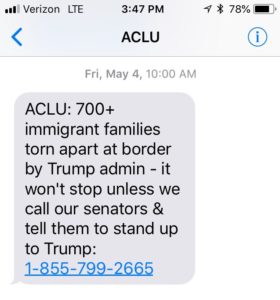 As I mentioned earlier in this article, Peer-to-Peer vendors offer basic SMS functionality with the ability to create custom fields for personalization in messages, and you can add emojis. With the help of your primary CRM (ex. NGPVAN) you can do list segmentation and targeting.
Whereas the major Broadcast vendors (Mobile Commons & Revere Messaging) offer:
SMS & MMS (multimedia like graphics and gifs),
Custom field personalization (ie. Hi First Name),
Survey/multiple choice questions,
Logic-based automatic responses (if/then),
A full CRM to manage contacts,
Link/URL tracking within the platform,
Advanced list segmentation and targeting
Patch-through calling and click-to-call functionality for advocacy campaigns
There are a few smaller Broadcast vendors that only offer basic SMS and MMS messaging with a few additional functionalities.
What have we learned?
So once again, it's important to think about your specific needs, audience, and resources to determine the appropriate mobile tool/platform to use based on the circumstances. Ask the right questions.
Specific Needs:
What is your program or campaign goals?
Do I plan to organize a call-in campaign?
Will there be rapid response moments?

Am I using mobile for advocacy, fundraising, education, or marketing?
Audience:
Am I reaching out to voters in a specific district for a political campaign or ballot initiative?
Do I have a relationship with this audience?
Do I have mobile opt-ins already?
Resources:
People: What is my current capacity? Do I have a staff person who can do the work and/or train volunteers? How many volunteers would I need?
Time:

Am I running a 6 month or a 12-month political campaign?
Is this for a special election, with only one month til the election?
Is this for a long-term campaign or mobile/digital program?

Money: What is my budget? Can I afford to hire contractors to send text messages?
These are all significant questions you need to ask yourself when deciding whether to use a Broadcast or Peer-to-Peer platform (or both!). Hopefully, I've answered many questions you might have with regards to starting or running your mobile program. If you have any additional questions feel free to email me at contact@smartasafox.org.
Stay tuned for an upcoming blog post on best use cases for Peer-to-Peer mobile.