Obama: DOMA Unconstitutional!
So it seems that Obama has made good on his promise to defend the rights of gay, lesbian, bisexual, transgender citizens. First by the repeal of "Don't Ask Don't Tell" and now by refusing to defend the "Defense of Marriage Act" as Federal Law, and declaring a key section unconstitutional.
In a letter to Speaker Boehner, Attorney General Eric Holder explains:
"After careful consideration, including review of a recommendation from me, the President of the United States has made the determination that Section 3 of the Defense of Marriage Act ("DOMA"), 1 U.S.C. § 7, i as applied to same-sex couples who are legally married under state law, violates the equal protection component of the Fifth Amendment."
This is an extremely BIG and strategic move by the Obama Administration to defend the rights of those same-sex couples who have legally been married by law in states where their love is recognized (Massachusetts, New Hampshire, Vermont, Iowa, Connecticut & Washington, D.C.). I have previously written posts about the effect DOMA has had on same-sex couples' ability to relocate for jobs where marriage isn't recognized and its effect on those couples in which one partner is not a U.S. Citizen. This new recognition of Section 3 of DOMA as unconstitutional will allow for Federal recognition of same-sex marriages that have been performed in those states and countries where its recognized. This means that same-sex couples could file their Federal Income Taxes jointly, and perhaps even apply for spousal Citizenship.
The best part of the Administration's argument against Section 3 of DOMA's constitutionality is that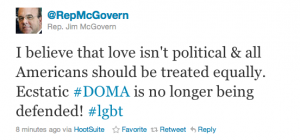 they can demonstrate that GLBT citizens are a protected class under the "Equal Protection Clause." Despite the fact that the "political process is not closed entirely to gay and lesbian people" the courts have judged  "political powerlessness" based upon the class of people having been subject to "heightened scrutiny." To prove this "heightened scrutiny" – the Justice Department is using the Congressional record from the dates on which the passage of DOMA is being argued:
"The record contains numerous expressions reflecting moral disapproval of gays and lesbians and their intimate and family relationships "" precisely the kind of stereotype-based thinking and animus the Equal Protection Clause is designed to guard against.vii See Cleburne, 473 U.S. at 448″ (Holder's Letter to Boehner)
Holder has given the Speaker until March 11th, only two weeks to act and respond. All this in the middle of a major budget debate, with the possibility of a government shutdown. Speaker Boehner & the House GOP Majority is not too pleased with this, as noted in this statement:
"While Americans want Washington to focus on creating jobs and cutting spending, the President will have to explain why he thinks now is the appropriate time to stir up a controversial issue that sharply divides the nation." – Office of Speaker Boehner
To which I reply: "what jobs?!" – the last month the GOP has been cutting funding to vital services that aid women and families, while simultaneously cutting 800,000 federal jobs. The Republicans have used "controversial issues" like "gay marriage" and "abortion" to win multiple elections and ballot initiatives across the country for the past 20-30 years. Stop being a hypocrite and take it like a man (or maybe you should just cry, like you usually do).