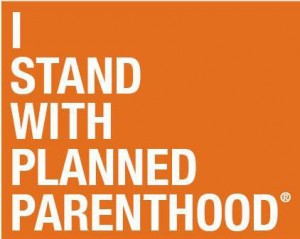 If you are like me, you've been receiving multiple action alerts from women's groups and Democratic leaders on a daily basis the past 2-3 weeks about the GOP assault on women. The purpose of this post is to simply lay out the pieces and intentions of the GOP's attacks on American women, and What YOU Can DO About It!
So much for the November 2010 Election platform of "Jobs, Jobs, Jobs" . . . because it seems that all the GOP has been doing since taking control of the House in January is attempt to chip away at my right to reproductive choice, privacy and health services. And boy have they been busy – in the past month 4 bills have been introduced that cut funding and restrict women's access to vital programs that support women and families.
1) H.R. 3—the No Taxpayer Funding for Abortion Act – This is the infamous bill introduced by Chris Smith (R-NJ) that would make it illegal for even private insurance companies to offer health coverage for abortion. But, that's not all – it also takes things a thousand steps further by redefining the term RAPE, by only allowing victims who are subjected to "forcible rape" to have access to abortion services. I don't know about you, but last I checked no means no, and rape is rape, plain and simple. So Congress has decided if the victim of a rape is drugged, mentally handicapped, underage (statutory) or a victim of incest it's not "really rape" because it wasn't "forced." Now when people started speaking out and putting the pressure on – the GOP said they'd remove that language from the bill. But, surprise, surprise as of today the "forcible rape" language is still there and the bill has over 163 sponsors.
TAKE ACTION by Signing this Petition Against H.R.3 : http://boehnersamerica.org/splash/signup/splash01/
And enjoy this Daily Show Clip on the "forcible rape" language . . .
2) The Pence Bill or H.R. 217, the "Title X Abortion Provider Prohibition Act" – Introduced by Mike Pence, this bill's only goal is to restrict Planned Parenthood from receiving Federal funds for family planning services that have helped millions of women by providing access to basic reproductive healthcare. With over 160 GOP sponsors the bill plans on cutting more than $70 million in funds provided by the federal government, that often go to serve those women who can normally not afford basic medical care. The majority of Planned Parenthood funding doesn't go towards abortion, but to health services like annual GYN check-ups, birth control, and STI/STD testing.
TAKE ACTION against "The Pence Bill" and cuts to Planned Parenthood funding by calling (202) 730-9001 for the Congressional switchboard or get patched through to your Congressman HERE.
3) H.R. 358, the "Protect Life Act – Introduced by Joe Pitts (R-PA), this bill would not only prohibit federal funding for abortions under the national health-care law, it would also allow doctors and hospitals to refuse to perform any abortion, even if it was needed to save the life of a pregnant woman. Current law dictates that a pregnant woman with a life-threatening condition cannot be turned away by a hospital, even if her condition requires a doctor to abort her child. A federal law, the Emergency Medical Treatment and Labor Act (EMTALA), requires hospitals that receive federal funds (almost all of them do) to provide you with emergency treatment or transfer you to a hospital that can. This bill would undermine that law, by allowing a doctor to not only deny an abortion to a dying pregnant woman, but to also refuse to transfer that woman to a place where she might be able to receive an abortion. In fact, the hospital would not be required to do anything at all.
*The only TAKE ACTION alert I could find for this bill was from the Catholic Advocate urging their members to support the "Protect Life Act" and allow doctors to let their pregnant patients die.
UPDATE 2/16/2011 – NARAL has created an online petition against both H.R. 358 & H.R. 3 – So Please TAKE ACTION: http://www.prochoiceamerica.org/get-involved/stupak-on-steroids/call-rep-021611.html
4) The Continuing Resolution for FY 2011 – proposed by House Republican leaders, according to the National Women's Law Center (NWLC) this resolution cuts support for women and girls at every stage of life:
Eliminates the Title X family planning programs that provide funding for contraception and other preventive care to over five million women and men each year
Cuts Head Start and child care for 368,000 children
Cuts millions from nutrition programs for pregnant women and their children
Cuts funding for prenatal care
Eliminates funding for the Women's Educational Equity Program that helps schools comply with Title IX
Cuts funding for Pell grants, which help low-income women afford college, by more than $800 per student
Cuts funding needed to keep Social Security offices open and for meals, housing, and other supports for elderly women
TAKE ACTION Against "Continuing Resolution for FY2011's" Drastic Cuts to services for Women and Girls by Signing this Petition!
Make no mistake, this is a full assault against women! Make sure you take action against each of these attempts to limit women's access to vital services and programs. The only "jobs" bill the GOP leadership has introduced was the "Repeal of the Job Killing Healthcare Law" which as studies and numerous statistics have already proven actually decreases the deficit and definitely does not "kill" any jobs. In fact, the new "Affordable Care Act" has already helped thousands of my generation who are unemployed and now allowed to stay on their parents' health insurance until the age of 26.
The GOP claims to be acting on a "mandate" from the people – but, the majority of Americans when asked about specific provisions within the "Affordable Care Act" overwhelmingly support the new law. Meanwhile, the majority of Americans also respect and support a woman's right to choose – yet it appears that the GOP is allowing the conservative minority dictate their actions and could care less about the needs of the American people.
We are paying attention and we don't like what we see! As clearly stated in MoveOn's most recent ad against these malicious attacks on Women & Girls – We Will Never Go Back!
Facebook Comments