I learned how to say F-in Cold in Bulgarian this weekend for darn good reason . . . its freakin freezing. We went from 70 degree weather last weekend to 40s this week. Luckily for me a managed to find a jacket for under 100 BGN (leva)  last Friday. (Side Note: while many things in Bulgaria are cheaper than in the States, clothing is realllllly expensive – everything is from more expensive European brands marked in Euro. So a Bulgarian who makes 600BGN a month might save up to buy 200 BGN D&G boots, whilst spending 200BGN on their monthly rent as well. Craziness if you ask me. I miss TJMax!).
Now all I need are some new boots to keep my feet warm and a hat, since I bought gloves while walking the other day. What makes matters worse is my apartment is almost as cold as outside. As it turns out Sofia still has it Communist era heating system, which means that the whole city's heat is controlled by one source. And usually they don't turn on the heat until November – luckily I found because of the cold spell it goes on tomorrow. But, right now I am sitting in my apartment in layers, my Clark Sweatshirt with my Lufthansa airplane blanket and a cup of tea shivering my ass off.
That being said I still had a great weekend which consisted of an Expat Gathering at a new bar owned by an American, Scottish guy and a Bulgarian (sounds a bit like a joke, dontcha think? – a la "a blank, a blank & an blank walk into a bar). Anyways the bar is called Black Dog Bear and its right by the U.S. Embassy, a bit outside the Centre of Sofia. The owners are pretty awesome – especially Tom who is from Boston originally (see photo below). We met some Americans from Oklahoma & Pennsylvania (who are contracting with the Embassy) as well as Cyprians (don't know if thats right?) and Germans. All and all it was a pretty cool night which ended with free tequila shots.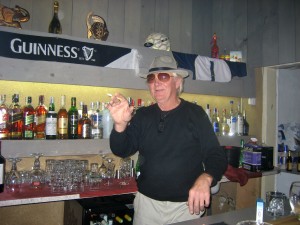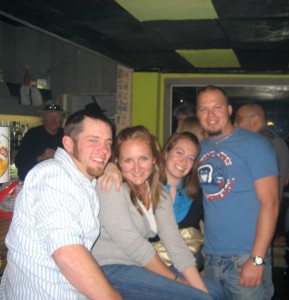 On Friday night I went out with a large group, which included my two Animus Co-workers from Germany & Switzerland. We ate at this great Moroccan Restaurant called Annettes (try the Turkish Teas, Hummus, Chicken w/ Pear & Wine Sauce – absolutely delish).
And on Saturday night I went out with a bunch of my new friends from the American Research Center  (ARC) to the Bulgarian Symphony. One of the staff at ARC name Hristo is a MA student in Music and his teacher is the first chair Clarinetist for the Symphony, so he was able to get all of us in for free! It was pretty remarkable performance – I've never really had a huge appreciation for classical music, but I really enjoyed the concert and the art show in the lobby that included 2 modern Bulgarian artists that I really liked (I've failed at finding their names via my google search). Everyone who had tickets that night had to keep on their jackets, especially in the lobby at intermission because it was sooo cold, since the heat still hadn't been turned on in the city.
Below is a exerpt from last night's concert:
(Someone in front or behind me was coughing a bit, but the music is still really great – Enjoy)
And on that note I have to make myself another cup of tea because in the process of writing this blog post my last cup got extremely cold. FML.