This past week we lost two giants whose lives were not only marked by their own successes and failures, but also by their service and dedication to ensure that others had those same opportunities for success. They were women who didn't allow social norms to dictate their opinions or actions.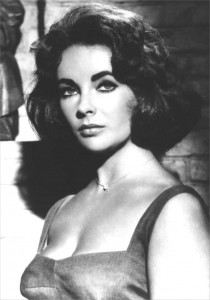 I sometimes wonder if Elizabeth Taylor (1932-2011) and Geraldine Ferraro (1935-2011) ever crossed paths? They were so different, yet also so much the same. One was married once, the other eight times. One was in Hollywood, the other in our Nation's Capital. Both were working mothers. Ferraro stood by her husband and son during extremely difficult times, despite the impact to her career and Elizabeth Taylor was said to be a wonderful mother & step-mother (according to Carrie Fischer) and both were known as tireless advocates for their friends. Its funny that both Elizabeth Taylor and Geraldine Ferraro are forever engraved in my mind as women who truly had grit, because of things they did in 1984 – the year of my birth.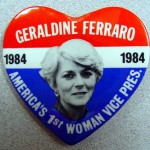 Everyone knows that in 1984, Geraldine Ferraro became the first female candidate for Vice President to be on a major party ticket when Walter Mondale chose her as his running mate. As Former Secretary of State Madeleine Albright explained to POLITICO, "When she stepped up on the stage at the San Francisco convention, that really opened the door in so many different ways . .  . People questioned, frankly, whether a woman could do foreign policy. They asked her if she could press the nuclear button – questions they don't ask men. But she cut through it all." She cut through it all so that the girl I was at the time, and the woman I became knew running for Vice President or even President of our great country was a possibility, not a pipedream. The 1984 election loss didn't bring her down. Ferraro went on to serve as United States Ambassador to the United Nations Commission on Human Rights under Clinton and she continued to fight and support other women who ran for office across the country. As she put it, "When women run, women win."
In the same year, Elizabeth Taylor became one of the first celebrities and public personalities to raise awareness and advocate for the prevention of HIV/AIDS by organizing and hosting the first AIDS fundraiser in 1984, to benefit AIDS Project Los Angeles. In the 1980s HIV/AIDS was barely acknowledged, despite the fact that it was causing hundreds of deaths each year (including the death of my Great Uncle in 1985) because it was a "Gay Disease." Some of Taylor's friends, including actor Rock Hudson, were stricken by the disease. So despite the controversy associated with the disease she refused to stay silent by publicly advocating for funding and research to find a cure. In 1993 she founded the Elizabeth Taylor AIDS Foundation. Former President Bill Clinton said it best, "Elizabeth's legacy will live on in many people around the world whose lives will be longer and better because of her work and the ongoing efforts of those she inspired."
Both these women paved a path for us  . . . the least we can do is fill in a pot hole every now and then to make sure the road continues to allow safe passage for all.
Facebook Comments