Part III – Conquering the Balkans with No Voice
Sooo, yes its January 2010 and yes, I went on this trip in October . . . but Day 5 was one of my favorite parts of my Balkan Adventure.
DAY 5 – MONTENEGRO
Kotor in Montenegro is absolutely beautiful and we took a great hike up the mountain side, where the remnants of an old castle/fort wall existed. Old Town Kotor, where we stayed was absolutely charming and as I said in my previous post "Part II – Conquering the Balkans One Cough at a Time" it reminds me of Venice. Just look at the views from the hostel window.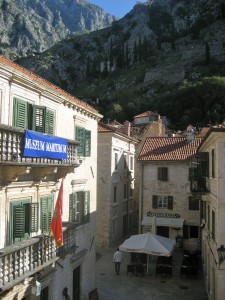 We woke up early so that we could begin the hike up, which took over an hour, especially since at this point I had no voice and was extremely congested. As we got higher the views of the harbor & sea became more and more beautiful. And the old 1400s infrastructure was very much still intact allowing us to wander through certain sections of former towers. We also found a small church and what looked to have been a former village or city within a mountain valley the walls/fort protected.
Here are some photos from our hike for your enjoyment. I hope I have the opportunity to go back.
We ended up taking a bus from Montenegro through Serbia to Nis, which is only about 2 hours from Sofia. We hoped that when we arrived in the morning we could catch a bus to Sofia, but as it turned out we missed to 4am, bus since we arrived at 7am and would have to wait until the next bus at 4pm. Sick as I was we set up shop at a Costa coffee shop in town where I proceeded to drink tea and sleep for most of the day. Meanwhile, Charles became friends with some High School students whose school was located right next door. At one point I am being woken up to be told that some man wants to interview me about my work on sex trafficking in the region. I am introduced to 2 students, a boy & girl (whom are now my FB friends) who would translate since the journalist did not speak English and got the Principal to give them permission to leave class. Keep in mind, I'm groggy, sick and sleeping on a coffee shop couch. How all this happened while we were stuck in Nis, Serbia waiting for our bus is beyond me. The journalist was definitely a bit quirky and at points I looked at the girl who was translating and said "did he really ask that" and she nodded and said that he sounds kind of crazy to her too. Supposedly this journalist has been writing about trafficking in Serbia and Kosovo. I explained that my research was predominantly in Bulgaria, but I am well aware that trafficking is a problem in the entire Balkan region. He then asked if I would like to live in Serbia and do research there as well – and I explained that I had a grant that was funding my ability to stay and live in Bulgaria. He then began to tell me about his son who was my age and suggested that I should consider marrying his son. It was quite a funny and entertaining experience. I don't know if anything was ever written or published.
After the interview the girl who helped translate the interview asked for me to come with her back to the school to sit in on her class and meet her best friend. It was a fun experience – and I was sort of "Show & Tell" for her when we entered her class. I was shocked by the teacher's acceptance of her simply entering the class very late with a random American guest. But, as I've been told by friends in Bulgaria who teach English – the teaching systems are quite different here. This particular high school is a specialty school for law and politics.
Here is a photo of the class and my new friend after the bell rang and of Charles and I with our new high school friends and translators.